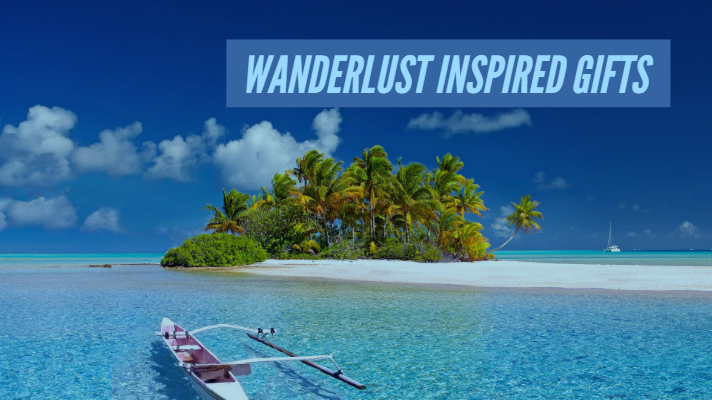 Wanderlust Customized Jewelry and Gifts!
by Lori Torman
Wanderlust: a strong desire to travel.
If you've got the travel itch and you need some help scratching it, look to the customized jewelry and gifts from Thoughtful Impressions to tide you over!
Our team of engravers has partnered up with our team of designers to create some remarkable products for adventurers to love.
Personalization comes in many forms.
1. The first style is free-form – meaning, Thoughtful Impressions supplies the symbols, fonts, and products and you decide on the engraving. You can choose a favorite quote, meaningful symbol, short message, location, and more to complete your unique styling. Choose from products that are great to take with you on your journeys such as keychains, durable leather bracelets, bag tags, and wallet cards. If you need some help coming up with engraving ideas, check out these phrases related to wanderlust:
Collect Moments, Not Things
Life is either a daring adventure or nothing at all – Helen Keller
Dare to Live the Life You've Always Wanted
Jobs Fill your Pockets, but Adventures Fill your Soul
Don't Listen to What they Say, Go See.
Once a Year, go someplace you've never been before – Dalai Lama
Travel Far Enough, You Meet Yourself – David Mitchell
Leather Coordinates Bracelet
2. The second form is a template. In this form, you'll have the option to choose from designs our artisans have already crafted ahead of time for you to choose from. The custom phrase or graphics will come with the item shown in the product photo and you can select a design that fits you best. These designs usually have space on one additional side for you to customize with additional engraving should you like.
When traveling, you want to pack light, making it easy to bounce from location to location. Whether you're traveling to a national park just a few hours away for the weekend or you're flying to an exotic new country for the first time, a way to commemorate those trips is to have a personalized coordinates accessory created. You can choose from many styles of jewelry and gifts including picture frames, bracelets, key chains, necklaces, and pocket knives to name a few. Thoughtful Impressions will need the physical address to the location you wish to commemorate; they can easily convert that to GPS coordinates which look modern and attractive when engraved.

Traveling is one of the best ways to spend your days. It's valuable to learn about new cultures and to see how other's use their own special techniques to craft their goods and services. Wanderlust is easy to come by because it's simply so great!