by Lori Torman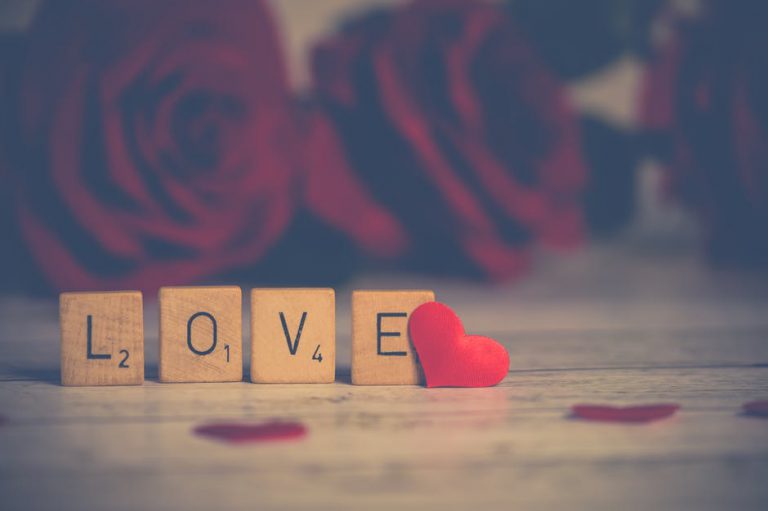 If you're someone who values Valentine's Day as a way to express love and to show general kindness to all of the people you care about, then you're likely going to be looking for some unique gifts this year. Thoughtful Impressions carries a meaningful collection of personalized jewelry and customized gifts that make perfect Valentine's Day gifts. Below are their top five suggested personalized gifts for Valentine's Day 2018.
1. Engraved Handwriting Wallet Cards
A newer item from Thoughtful Impressions, engraved handwriting wallet cards, are already quite popular. These wallet cards are made of aluminum and come in either red or black. Due to their size, they allow for a decent amount of engraving to be added to the front. Engraved handwriting is a unique way to say I love you because it allows people to take messages they've kept over the years which hold sentimental value and permanently etch them into a wallet card to keep with them daily.
Romantic Engraved Wallet Card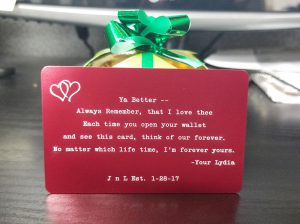 2. Personalized Lockets
For a special touch this Valentine's Day, you should definitely consider purchasing a personalized locket. Lockets are beautiful, their charming and they make an impression. Select from a large selection of materials including rose gold, sterling silver, yellow gold and stainless steel. Many lockets come etched with intricate embellishments such as floral and heart patterns. A locket is unique because it enables its wearer to keep pictures near and dear to their heart, but a personalized locket is an even more special way to express feelings by including an engraved message that the wearer will cherish.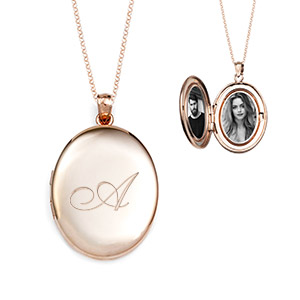 3. Custom Coordinate Picture Frames
A picture frame makes a great unisex Valentine's Day gift. Add coordinate engraving to it and it becomes even better! Thoughtful Impressions suggests having the GPS coordinates of a place near and dear to and your beloved's heart engraved directly into the frame. An extra special touch is to place a picture from those coordinates in the frame to tie it all together.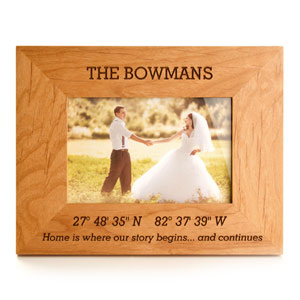 4. Engraved Pocket Watches
Forever the timeless icon – a pocket watch is a great gift for guys. Most men won't spend the money on such a nice gift, but if you ask them, chances are they'll say they've always wanted on. An engraved pocket watch goes great with suits or casual wear. Thoughtful Impressions sells a variety of pocket watches – all of which can be traditionally etched with engraving for a classic, memorable gift.
Classy Engravable Pocket Watch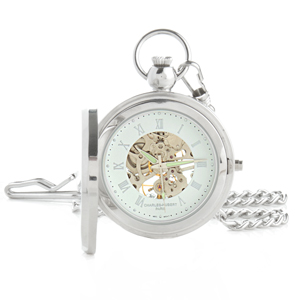 5. Personalized Wood Cutting Boards
Last but not least, personalized cutting boards make for versatile gifts because they can be used for cooking or for decoration. Thoughtful Impressions offers custom laser engraving on the front of their cutting boards. Monograms, text engraving, and specialized templates are offered to create a one-of-a-kind and elegant engraving.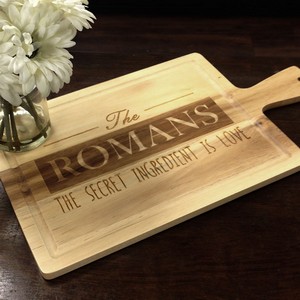 Hopefully, these Valentines Day ideas for your love help you to select the perfect gift to make this Valentine's Day more than just another commercial holiday!