by Lori Torman

Valentine's Day is swiftly approaching already! If you're like me, you're probably thinking wow, I've barely gotten myself grounded from the recent holidays just last month… and I certainly do not have the time nor the energy to put into even thinking about Valentine's Day gifts yet. However, Valentine's day is an amazing opportunity to truly show how much you care about your beloveds and time is well spent deciding on an amazing gift for the special someone in your life. Men's gifts especially, always seem to be problematic for so many folks to find. So… we've taken it upon ourselves to offer up a little bit of help by compiling a men's gift idea list with some of our most popular selling and engravable men's products.
1. Personalized Bracelets – Men's bracelets provide a unique opportunity to show love in a myriad of ways. From engraving a custom graphics file of a symbol from their fave tv show to adding their favorite lifestyle quote onto a stylish and trendy wearable, we know that this is an item which men continue to be thankful for time and time again. And, the great thing about men's bracelets, is that men actually like wearing them! From rustic leather to black plated stainless steel, a men's bracelet is always a well-received gift.
2. Engraved Pocket Knives – Engraved pocket knives are a welcomed gift for men of all ages. For decades, pocket knives have been used for everything from cutting rope to saving lives to opening packages. From boy scouts to grandfather's, an engraved pocket knife continues to be an appreciated gift year round.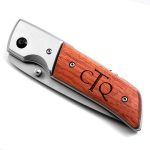 3. Leather Wallets – We offer a classic line of slim, yet efficient leather wallets which can be engraved on the front, inside and back. Choose from a wide variety of engraving templates such as custom monograms and initials to text engraving of your guy's favorite inspirational quote.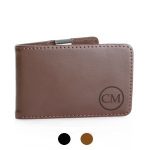 4. Wooden Bottle Openers – Bottle openers are always an awesome choice for the special man in your life. They're handy, durable and uniquely customizable. Laser engraving allows you the option to engrave monograms, names, funny phrases, etc. Here are some of our favorite comical engravings we've used in the past: "Open, drink beer, get awesome, repeat!" "Take your top off" "Bottoms Up" "Save Water Drink Beer". Whether you're looking to engrave something classy for a groomsman or something hilarious for your fave guy pal, a wooden bottle opener is an excellent gift choice!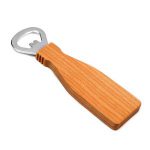 5. Signet Rings – Engraved rings are a one-of-a-kind and therefore treasured gift. It takes a personal touch to find the right style and size for the special guy in your life, but rest assured once you do, a personalized signet ring will be appreciated for a lifetime. Signet rings can be engraved with family crests, significant symbols, initials, monograms and more! Our graphics department has the ability to convert most designs to be engraved onto our signet rings. Please send any unique and awesome design ideas you have to our graphics department directly by emailing logo@thoughtful-impressions.com for engraving options!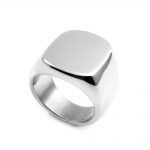 Valentine's Day is more than just another commercial holiday; it's an excellent opportunity to show how much you care. We hope our idea's list helps you to find some amazing personalized men's gifts this year!