The Charm of Handwritten Jewelry
by Lori Torman

Turn your written memories into wearable keepsakes with custom engraved handwritten jewelry. At Thoughtful Impressions, we take pride in the intrinsic artistry of our personalized jewelry and gift items. If you're unfamiliar with what handwritten or sometimes referred to as handwriting jewelry is, then you've come to the right blog. There is a special charm associated with handwritten jewelry as it's a unique way to permanently treasure written words– which for some, may have changed may have positively affected change for their entire lives.
For years now, we've been offering handwritten jewelry engraving at Thoughtful Impressions where we enable our customers to send us hand-written messages which we then turn into lasting engraved heirlooms.
Here are some of the items we regularly receive to convert to engravings:
1. Hardcopy greeting cards with meaningful handwritten messages
2. Post-it notes with quick messages to lift your spirits.
3. Doodles and adorable messages from your kids
4. Messages on the back of old pictures
5. Congratulatory notes which were written into books or notices of achievements
All of these messages can be custom converted for keepsake engraving onto beautiful gift items of your choosing.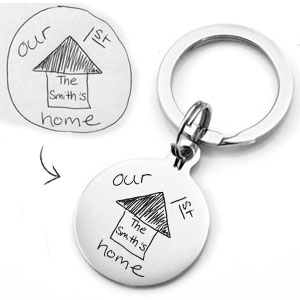 To create your own handwritten jewelry with us is very simple. Once you've decided on a message you wish to have turned into engraving, browse through our handwritten jewelry product selection to will locate a special item you adore. From there, you simply place your order on our website and then will want to send us an email directed at our graphic arts department for them to work their magic so as to provide you with an end product you will absolutely love.
The easiest way to email us your message is to take a well lit and very focused photograph of it with a digital camera or simply your camera phone. The more contrast provided, the better. Then send us the image picture. It's as easy as that.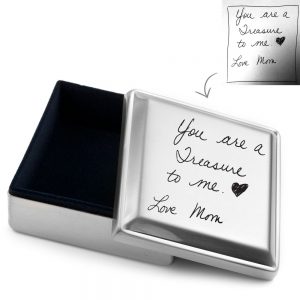 Once our graphic team has your image, they'll carefully review it and will crop, cut, move and arrange it in a way that is the most pleasing for engraving. After that step is complete, they'll contact you to confirm you like it and from there, it's sent off for laser engraving!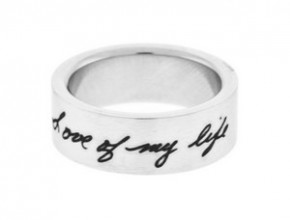 Our engraved handwritten jewelry truly is a one-of-a-kind gift to be treasured for a lifetime. Shop our collection today to find an exclusive handwriting item to call your own.