by Lori Torman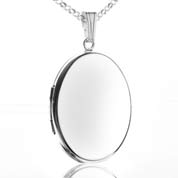 Giving jewelry as a gift is a common and much-appreciated gesture and way to express love. Anniversaries, birthdays, graduations, and countless other occasions can be marked by a piece of jewelry. Why settle for stones and metal alone when you can make your gift really count? Engraved jewelry is a great way to show your love for years to come.
What woman wouldn't love a necklace engraved with her name on the front and an endearing message on the back? Or a personalized locket with custom etching of a love symbol and inside she can fill it with pictures of her most precious family and friends. Men often receive gifts of personalized leather bracelets, signet rings, customized watches and more. Even dog tags that are engraved can make excellent gift selections.
When you really want to give a gift that will be treasured, put a little more thought into it than simply picking up a piece of jewelry. Think about what the piece is commemorating. Think about the person the gift is for, and then make it personal. If your girlfriend loves lockets, why not get her a heart-shaped locket with her nickname engraved on it? If your guy prefers heavier, sturdier jewelry, why not have a stainless steel bracelet customized for him featuring heavy links and his favorite quote or life motto.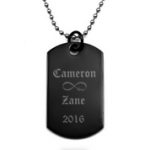 Custom engraved jewelry is exactly what the name says. You can also make each and every piece a personal testament to a special occasion or a meaningful relationship. When shopping for personalized jewelry, stop and think about how you could make the gift even more sentimental and personal to that special someone in your life. What is that they love? What inspires them? Is there a quote from a motivational speaker that they read often? Do they say positive affirmations daily? Perhaps a daily affirmation pendant engraved with the affirmations of their choosing would be a nice gift for them.