Send Us Your Custom Designs for Hand-Drawn Engravings!
by Lori Torman
Engraving has evolved a great deal over the years and it's at the point where you're limited merely by the amount of creativity you can muster. Thoughtful Impressions has the ability to take your hand-drawn pictures and messages and turn them into engravable files for a variety of jewelry products and gift items.
Getting started with this process is easy for the customer and the engraving company. First, find the message or picture you would like to have engraved. Then, browse through collections of jewelry and engraved gift items to find the perfect piece. Once you've selected what you wish to have engraved, you'll need to assess whether or not your hand-drawn message or picture is going to fit. You can do this by trying to create a digital mockup yourself using a drawing software such as MS Paint or Adobe Photoshop. Or, a much easier way is to simply contact your engraving company and ask them.
Thoughtful Impressions engraves handwriting messages and hand-drawn pictures regularly, so they'll be able to look at yours and quickly tell you if it will fit and engrave in such a way that will be aesthetically pleasing. They'll look at the overall size of the picture/message and will suggest an orientation and will offer options if you're looking to have it rotated or paired with additional text or symbols.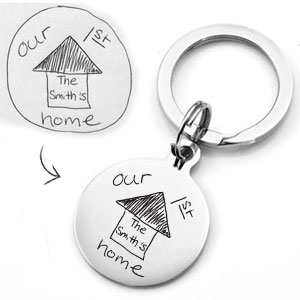 There are typically two choices available for engraving with most companies. One is laser engraving and the second option is traditional colorless etch engraving. Both will work nicely for hand-drawn files, however, in most cases, laser engraving gives more contrast and offers a more modern look that stands out well against your jewelry or gift items.
Once you've determined the item you'd like engraved, plus its orientation and engraving style, you can place your order. Thoughtful Impression's engraved jewelry and customized gift company offers a collection of items specifically for handwriting and hand-drawn engravings and have the engraving cost included in the price of those items. The best way to send your file for engraving is to take a well-lit, focused, high-contrasting picture of it with a digital camera most likely on your smartphone and then email it to the graphics department. At that point, your part is finished. Now, you simply have to sit back and wait for your order to be engraved, then shipped to you.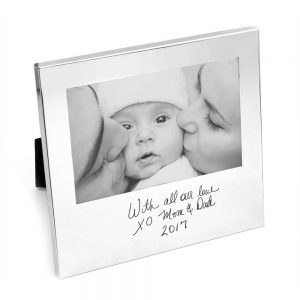 Your finished product will be one that is unique and memorable. If you're looking for a great memorial gift, handwriting, and hand-drawn engraved products are perfect, because they allow you the option of taking a deceased loved one's art and forever immortalizing it in personalized jewelry, custom picture frames and more.
Take personalized jewelry and customized gifts one step further with handwriting and hand-drawn messages.