by Lori Torman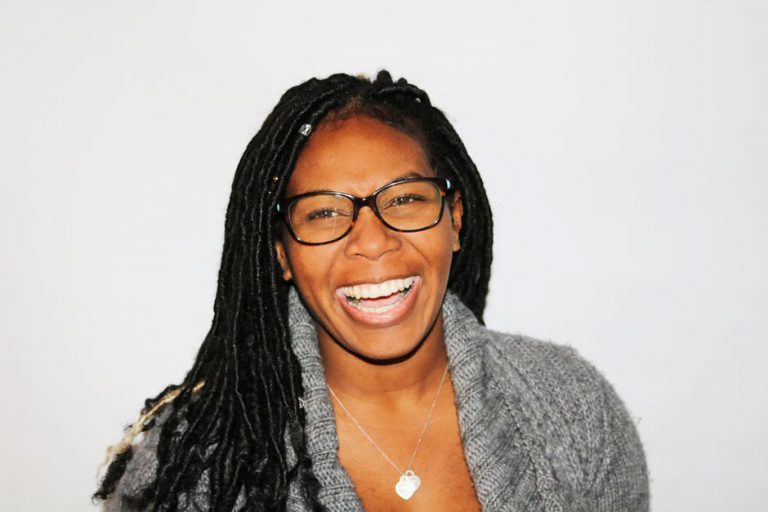 Your name is a special part of you that you carry with you for your entire life. A name can make or break many important situations and can lead to more abundant opportunities. It can change the way that people perceive and respond to you. It can help people to understand more about your ancestry. A name is a very important aspect of your life and thus, it should be properly displayed! At Thoughtful Impressions, we specialize in customizing jewelry with names.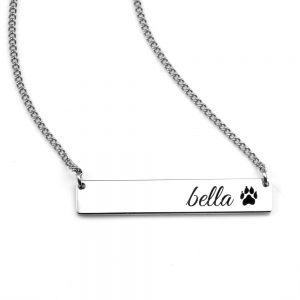 Custom name necklaces come in varying shapes, designs and materials. Thoughtful Impressions carries a beautiful line of gold, sterling silver, and stainless steel necklaces. Engraving choices include traditional colorless etching to give a light, elegant appearance and laser marking which will typically create a black mark on polished silver and steel items that are considered to be a bit more legible.
2018 Spring trends for custom necklaces include rose gold and sterling silver fine jewelry selections. The rose gold necklace choices at Thoughtful Impressions are made of modern skinny bar necklaces, chokers, dog tag pendants, round charms, heart-shaped pendants, custom lockets and much more. Visit our custom necklaces here.
In addition to rose gold and sterling silver – – stainless steel necklaces make for attractive personalized jewelry choices that are trendy and make powerful statement pieces. One of the large benefits of stainless steel jewelry is that it's durable and non-corrosive so you can wear it all day and night and even shower with it on.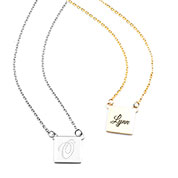 Personalized name necklaces are great choices for wedding gifts, birthdays, anniversaries — just about any occasion you can think of. The trick with name jewelry is to use a font that fits your personality and occasion. For example, if you're going to be wearing your name necklace to a formal wedding, you'll likely want to choose a pretty script font. If you're going to be attending a bold work event where you're looking to stand out and make an impact, then perhaps a stronger font such as times new roman would be more appropriate. The right font plays a pivotal role towards the styling of your name jewelry.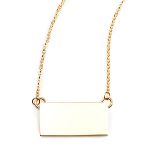 Custom name necklaces also make meaningful gift choices for new moms and their babies. Thoughtful Impressions carries a line of birthstone and baby feet jewelry with engravable necklaces that are etched on one side with their new babies adorable tootsies and the other side is open to being engraved with mom's name or baby's name.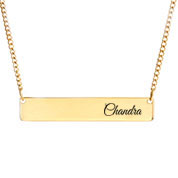 Accessories are a special way to add style and charm to your life — order your name custom engraved onto a beautiful necklace for a one-of-a-kind statement piece that you'll love and others will want!