by Barry Torman
Personalized Leather Bracelets and Friends: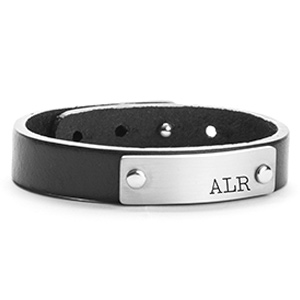 Layer on the Fashion, layer on the fun! Newly personalized leather bracelets from Thoughtful Impressions are bold enough to stand alone to add flair and style, but why not add a charm bracelet and beaded bracelet to achieve that layered 'Boho' look that's all the rage?
I have been waiting for 3 months for the new "Buckle Up" Brown Strap Personalized Leather Bracelet with the antiqued silver buckle! We've had the antiqued bronze buckle for a while, but I'm more of a silver girl. So when our fantastic purchasing agent showed me the demo product, I began counting the days till they were in stock.
I've picked 4 of my favorite personalized bracelets to demonstrate how you can create different looks with just a few pieces. Best of all, each of the bracelets is stunning enough you can wear them each just by themselves!
The "Buckle Up" personalized leather bracelet with the Antiqued Silver Buckle is going to be the star of tonight's show!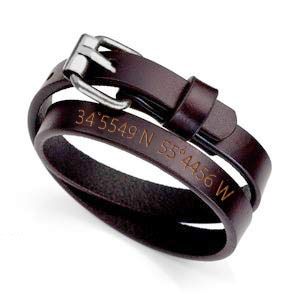 With super soft genuine dark brown leather and the antiqued silver iron buckle, it's sure to match almost any outfit. We call it a personalized leather bracelet because one of our engraving machines is able to 'burn' an engraved message into the leather on front and back! We allow one line of up to 50 characters. As you can see, the front engraving has that cool rugged light brown look, and the back comes out more dark brown.
The next competitor is our Sterling Silver Charm Bracelet.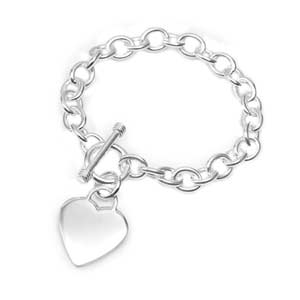 Basic charm bracelet by day, but you're able to dress it up in lots of different ways. You can attach different charms to the bracelet to show off your personality. Try adding an engravable plaque to create an even more personalized charm bracelet. Engrave your name for an ID bracelet, or a short message to yourself or as a gift for a sentimental bracelet you won't want to take off. The sterling silver links of the charm bracelet are oval for a delicate but playful look.
Designer John Wind brings us our final personalized bracelet, the Silver Plate, and the Cotton Pearl Initial Bracelet.
Every gal needs a beautiful classic pearl necklace and bracelet because you never know when you'll need them. This pearl bracelet is special because you can find your initial hand-stamped on to an antiqued silver plated round charm. The charm is only the size of your thumbnail so it's noticeably a charm, but not obnoxious or tacky. By combining the John Wind Silver & Pearl Initial bracelet and a "Buckle Up" personalized leather bracelet you can dress down the pearls so you can wear them every day!
To "top off" your outfit, you should pair any bracelet combination you choose with a fantastic pair of shoes! I love these Glitterati Sandals by Chinese Laundry. They're fun and classy!