by Lori Torman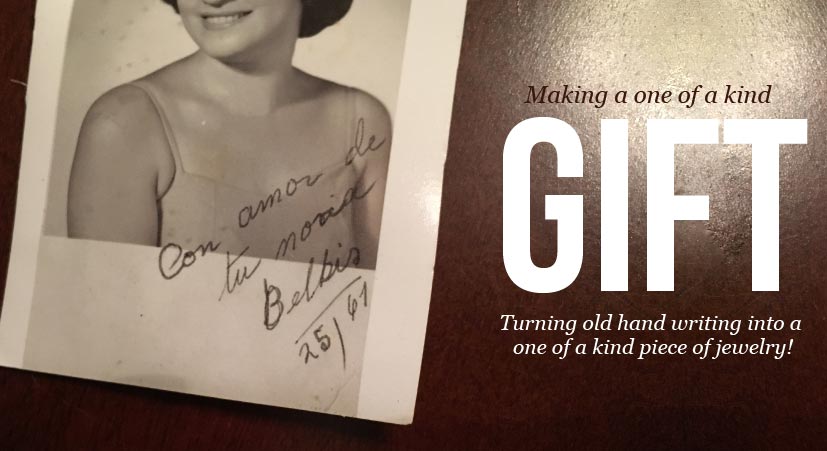 Our handwritten jewelry and gifts line stands out amongst the rest because quite frankly, it's a special process which most jewelry places simply do not offer. Honestly, it's one of my favorite product lines we provide here at Thoughtful Impressions.
How it works is really quite simple.
You send us the handwriting you wish to have engraved–whether it be a pen signature or a heartfelt message written with black sharpie marker from the inside of an antiquated card or even a cute doodle crafted your kids from when they were little. Do this easily, by taking a focused digital photograph of the message you wish to have engraved, with good light so as to provide our graphic designers with sufficient contrast. From there you'll want to send it to us via email at logo@thoughtfulimpressions.com. Our graphics team will then review and prep your message for engraving and attach it to your order.
Video Transcript — "Hey, have you checked out one of our handwritten gifts? We make it as easy as one, two, three. Step one, write down or find what you would like to have engraved. Step two, take a picture of it and email it to logo@stickyj.com. Step three, place your order at thoughtful impressions.com. This is when we begin our magic. We take your handwriting and turn it into a digital file. It looks just like your original, but now we can actually engrave your gift. In our engraving department, your order will be reviewed and engraved by one of our master engravers before it's sent off to be polished, packed and shipped to you. The result is a one of a kind gift which is sure to become a family heirloom".
If you're like me, over the years, you've probably accumulated a decent collection of cards gifted to you by special people in your life. I've received cards for birthdays, anniversaries, funerals, Christmas, plus many other occasions. Often times people will write in touching messages and now with our handwritten collection, I have the unique opportunity to make these messages lasting and anew.