by
Barry Torman
Ring in the new seasons with Earrings
Looking for the right accessory to compliment any look? Why not go with a pair of personalized earrings. Thoughtful Impressions carries a variety of earring styles, many of which can be personalized with your own custom engraving. The most popular engraving for a pair of personalized earrings is a monogram or single initial. However, many of the engraved earrings we carry look great when engraved with a custom logo as well.
Fall is here! What does that mean for your accessories? Necks and wrists are covered with sweaters and scarves, so you need to bring attention to your beautiful face with a stunning new pair of earrings.
Most of our earrings are made from sterling silver because frankly, we love the way silver earrings look, and sterling is easy to engrave. Plus, all of those sterling silver earring designs mean that you can find earrings to match plenty of our personalized silver bracelets. Also, we're constantly revising and adding to the jewelry items we stock.
Earrings are perfect for dressing up or relaxing at home, and can be matched to any style. Certain types of earrings are better for face shapes.
The Best Earrings for Oval Faces
Draw attention to your face without adding width or length with dangling earrings. Women with oval-shaped faces look good in almost every style of earrings. Stun any room you enter with teardrop earrings to accentuate your natural face shape.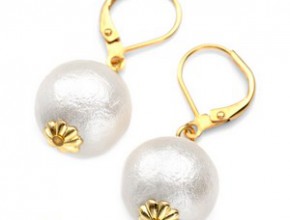 The Best Earrings for Round Faces
Lengthen your face and minimize a puffy appearance by choosing teardrop and dangle earrings. Choose earrings with long, angular designs thin to medium width.
The Best Earrings for Heart-Shaped Faces
Earrings with elongated curves and lines will help to balance out the face and will draw attention to the eyes, cheekbones, and jaw line. Look for dangle, teardrop, and chandelier earrings.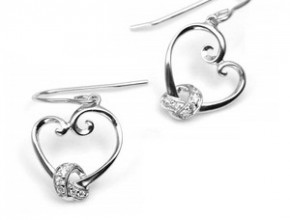 The Best Earrings for Square Faces
Soften your cheekbones and jaw line with rounded designs in elongated, dangling pieces and hoop earrings. Add drama over-sized hoops that brush or drop below the jaw line. Avoid wide earrings.
The Best Earrings for Narrow Faces
Clustered designer pearl earrings that dangle below the earlobe minimize length and soften angles. Look for earrings with elongated curves that will accentuate the cheekbone.
The Best Earrings for Diamond-Shaped Faces
Choose earrings with long, soft curves to minimize any sharpness around the cheekbones or jaw line. Accentuate with dangle and hoop earrings. Avoid earrings with a diamond shape to avoid unflattering, exaggerated lines.
Earrings are inexpensive and easy-to-wear any woman can use to finish off her outfits. Highlighting the natural face shape will draw out a woman's beauty and compel others to focus on her best features. Although personal style plays a large factor in earring picking, they make a great option for gifts! No awkward sizing, or guessing length!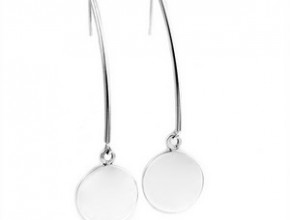 When purchasing dangle earrings, be sure to carefully review information about the overall size of the earrings; dangle earrings can look deceptively long in photos.
Lose the back of an earring? Erase Panic with our Quick Tip!
If you suddenly realize the back of your earring is missing while you're out (or in), fix it with today's helpful tip! There are few things more irritating when it comes to having bejeweled ears, than realizing that one of your earrings has fallen out. If you manage to find the missing earring, make sure it stays in with a quick and cheap solution.
It's highly likely that an eraser is readily available and more than willing to help you out. Just grab one, slice it up, and wear that newly secured earring with pride.
Pay it forward: if you've noticed a fellow earring wearer has lost a side or if they are close to falling out- let him or her know. The sooner they know, the better chance they will be able to find the lost jewelry. You'll be happy when someone tells you next time you're in the predicament.