by Lori Torman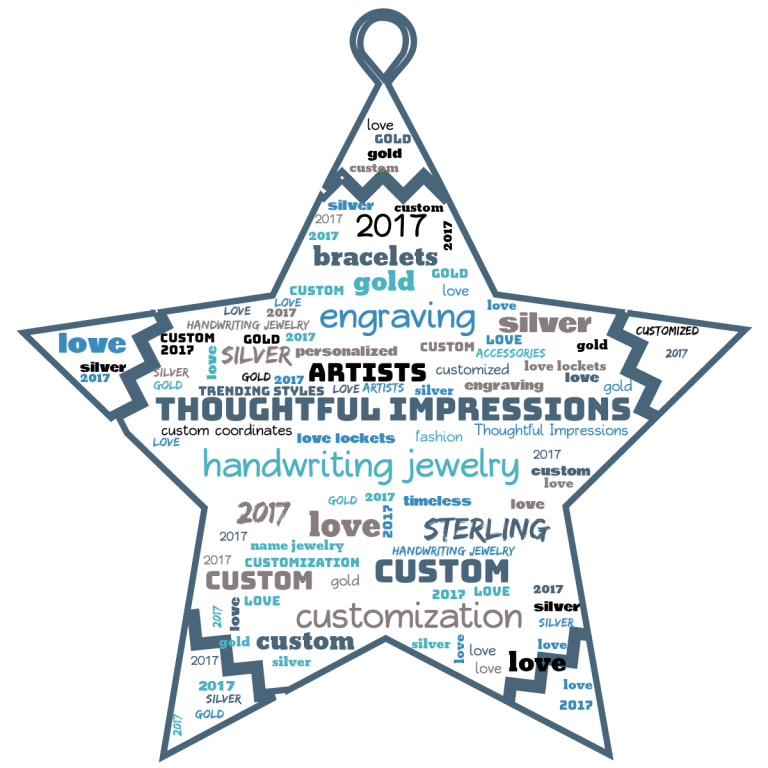 Well, 2017 is now over and the early days of 2018 are fast upon us. At Thoughtful Impressions, we experienced a lot of new projects and events in the year 2017 including moving the entire office, including its engraving facility from St. Petersburg, FL to Seminole FL. We expanded our product line plus engraving options and though our product line is fairly extensive, it seems we had five products which stood out to customers among the rest. Below are those five amazing, personalized products!
Engraved Gold Bar Bracelet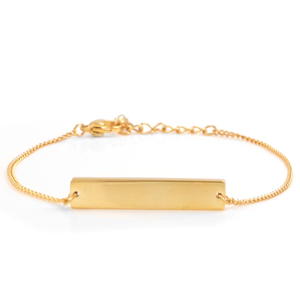 Our first item to tell about is our engraved gold bar bracelet. This custom bracelet is beautiful because of its small size and delicate elegance. It can be paired with additional bracelets and looks great with casual or formal wear, plus it's adjustable. The beauty and versatility of this personalized bracelet make it an excellent choice for many.
Gerard Braided Leather Engraved Bracelet for Him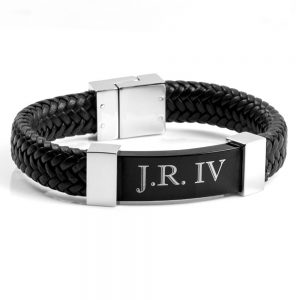 The next item on our list is our braided leather engraved bracelet for him. This men's engraved bracelet looks sharp on and appeals to persons with a taste that is rich in technology and science, but also for a nice, clean-cut look. The braided leather band is quite comfortable and it's metallic clasp makes it easy to close shut. One of its top features is its black plated steel face plate which is custom engraved with a laser to reveal a classic white marking. Both the front and the back of this custom men's bracelet can be engraved with a variety of engraving options including names, graphics, monograms, initials, and text.
Adjustable Black Leather ID Bracelet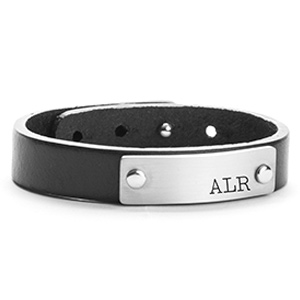 The second men's bracelet on our list is our adjustable black leather ID bracelet. Just like the previous bracelet, it too is adjustable, making it a prominent choice for customers. This bracelets' sleek leather band pairs well with it's brushed steel ID plate, plus its comfortable and looks attractive with men's work attire, casual weekend clothes or it even with a suit for a formal event.
Rose Gold Heart Engraved Lockets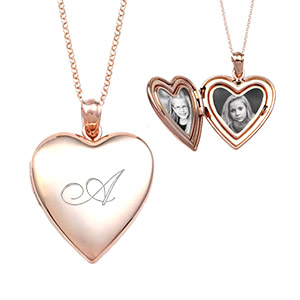 Our forth favorited item for 2017 is our gorgeous rose gold engraved locket for women in a heart shape. Rose gold on its own, has been an incredibly popular choice for jewelry and other home decor items for the past two years now. A heart-shaped locket is a special way to express love and when personalization is applied to it, it truly becomes a one-of-a-kind gift item that the gift receiver will cherish for many years. This rose gold locket is petite and looks beautiful with many different clothing choices including silk dresses, denim jackets, cotton blouses and women's tees.
Custom Leather Handwriting Bracelet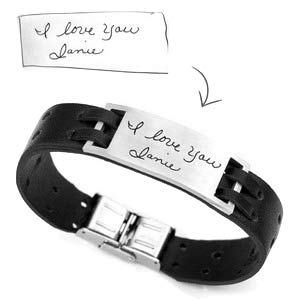 The last item on our top personalized products of 2017 list is our custom leather handwriting bracelet. This bracelet is a favored choice for our customers, because of it's exclusive engraving design. The bracelet on its own is quite nice too! Its black leather band is soft and therefore comfortable. Its simple design is easy on the eyes as well. However, the true value in this handwriting bracelet lies within its engraving style since this bracelet allows customers to send us a custom handwriting message for us to engrave permanently onto its steel plate. The finished product makes for an extraordinary memorial gift or an extra sweet accessory just to show how much you care. We suggest finding handwriting from a birthday or anniversary card which holds sentimental value to you. Then from there, you'll want to take a picture of it with your phone and email it to us. Our graphics department can extract only the pieces of the message you wish to have engraved and will ensure that the bracelet looks fantastic.
There you have it, we hope you enjoyed learning about our most popular 2017 personalized products as much as we do making and providing them to everyone. Be sure to visit Thoughtful Impressions today and check out our new arrivals to keep up with the latest in personalization trends!