by Lori Torman

Are you looking for a unique way to commemorate a special moment in time so that it's never forgotten by yourself and the person or people you shared the experience with? Engraved necklaces and other personalized gifts are an excellent way to do this, but today we'd like to discuss taking this one step further with custom coordinates jewelry. At Thoughtful Impressions, we can an extensive line of coordinates bracelets and coordinates necklaces for women and men. We also carry engraved coordinates gift items such as picture frames.
Engraved Coordinates Necklaces are an elegant and special way to always remember the places in your life which have held special meaning to you. You can order one just for yourself or order matching coordinates necklaces to share with a loved one. This special piece of jewelry makes a one-of-a-kind heirloom item too which can be passed down from generation to generation.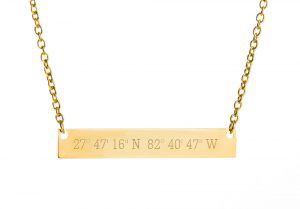 Coordinates Bracelets – Our engraved latitude and longitude bracelets are a lovely addition to any wardrobe. We offer a beautiful array of styles from gold and sterling silver to durable, but chic leather selections. If you're looking for a custom wedding gift, they make for a beautiful engraved gift to the newlywed couple.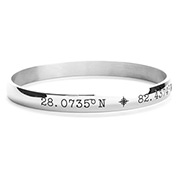 Engraved Coordinates Picture Frames – The picture frame choices we carry include wooden and stainless steel options. Both of which are engraved with our laser machines. Both of these style frames make for a lovely gift. A popular engraving option is to include your coordinates, but underneath the coordinates add an extra special phrase or saying that pulls on your heart strings. Also, you can include a personalized symbol to go along with your coordinates engraving. Our symbol options range from deeply spiritual to humorous and they make a great addition to most engravings.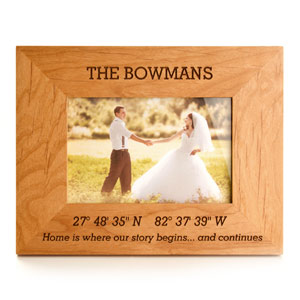 So, if you're doing some online shopping to find a meaningful and heartwarming gift, be sure to visit our site and view our collection of coordinates jewelry for a personalized gift to be treasured for a lifetime.