by Lori Torman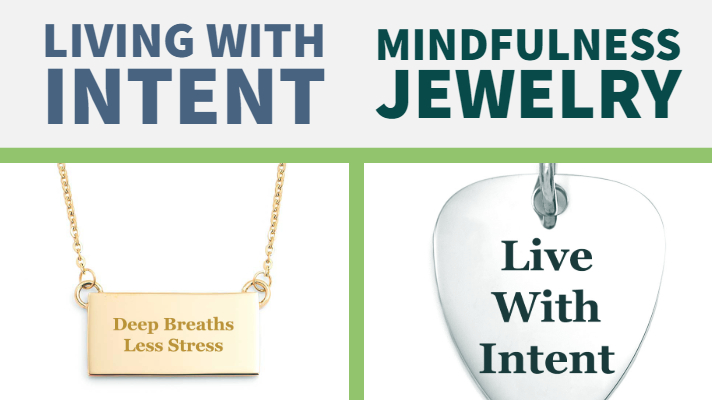 The year is 2019, the population is expanding at an exponential rate, families are growing and so are the stress-levels added to everyone in order to maintain a career, make enough money to support yourself, get to work on time, pay all your bills, feel safe in your own home, deal with negative attitudes, the list goes on and on. Basically, life for most people is a stress-filled undertaking. Living with intent, and focusing on being mindful will go a long way in helping you to live a more stress-free life.
Keep reading below for tips on how to live with intent and some suggested personalized jewelry pieces that will help to serve you with a reminder to focus and be mindful every day.
This gold, easy adjust personalized bolo bracelet from our online shop can be custom engraved with a variety of messages to help you to be more mindful. Here are some mindful message engraving suggestions:
Focus on your Breath
Live in this Moment
Live a Purposeful Life
It's Okay, Breathe, Just Be.
Live with Intent
The Journey is the Destination
Live Less Out of Habit
Wherever You are, be there Totally
Deep Breaths, Less Stress
Your Energy Introduces You Before You Say A Word
Be Awake, Know What You are Doing
Be. Here. Now.
Breathe, Step Back. Think. React.
Forever is Composed of Nows
This Moment. This Time. Live Now.
Live in the Now.
Add any of these messages to a personalized bracelet, engraved necklace, locket, charm, or even a laser-etched wallet card so you may view and take inspiration from the message to yourself as many times as you feel that you need to throughout your day.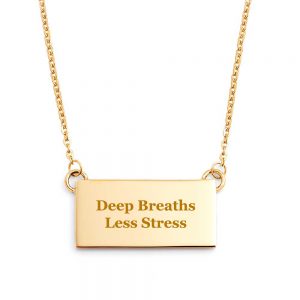 More research is being done by scientists to confirm the positive effects of mindfulness. By being mindful, you slow down. You focus your energy and by doing so, you're able to maintain your focus so you can accomplish more daily.