by Lori Torman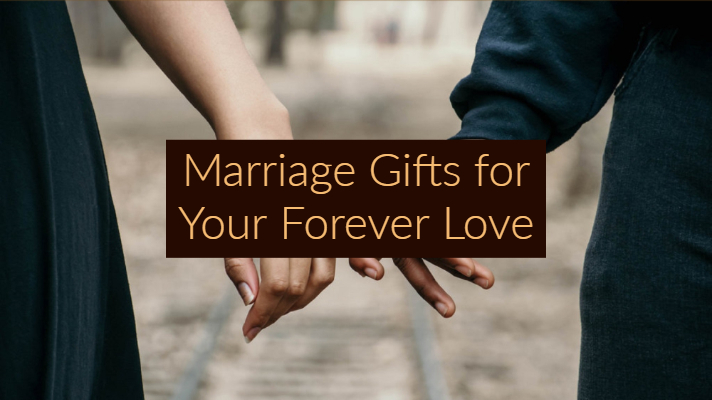 Marriage is a beautiful union that cements the love and appreciation you have for your partner. Whether you've been married for 1 month or 5o years, a healthy marriage benefits from attention and communication. Check out our quick list of marriage gifts below to show your forever love how much you value them every day.
Personalized Coordinates Necklace – A great way to express your love and to commemorate a location you and your significant other hold near and dear to you is with a personalized coordinate necklace. It's easy to order. Just send the engraving company your address and they can then convert it to attractive coordinates that they'll etch onto the front or back of the necklace for you. A great idea is to order one necklace for your partner, but an even better idea would be for you to order one for you both!
Romantic Wallet Card – A marriage is built off trust and communication and a romantic wallet card isa perfect way to communicate your love for your partner. Thoughtful Impressions carries engravable wallet cards with space for up to 9 lines of engraving on each side! Plus, our cards are made of aluminum so they'll last for years and years!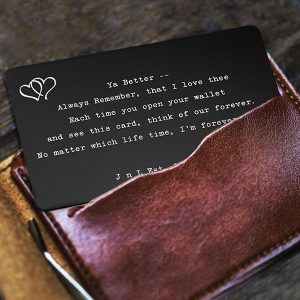 Customized Picture Frame – If you've not taken the time to frame any of your wedding photos, now's your chance! You can order a customized picture frame and have it engraved to read with the date of your wedding and a meaningful message related to your love and to that special day.
Day of Peace and Relaxation – Let's face it, regardless of how amazing your marriage is, in this day and age, we're all still faced with a fair amount of stress in our day to day lives. A day full of peace and relaxation is one of the best gifts you could give to anyone, including your spouse. Plan a quiet day at the park or at the beach. Send your spouse to the spa for a day or send them to get a manicure and a pedicure. They'll appreciate the relaxation and you'll appreciate the calm, content mood they'll be in when they get home.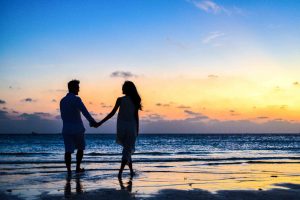 Dinner and a Movie – With all the great new Marvel movie's coming out, a movie and dinner is an exciting way to spend your evening with your love! If Marvel movies aren't your thing, choose a movie that's more your speed and purchase your tickets ahead of time if it looks like the theaters going to fill up fast.For dinner, pick a restaurant ahead of time, but make sure it's one that your partner loves to eat at or has been wanting to try out.
A Night out on the Town – It's exciting sharing in new moments together. When married, it's easy to fall into a rut — doing the same things day in and day out. Switch things up a bit by going to your downtown area for some much-needed fun. If you enjoy wine, find a wine bar to try out. But, don't stop there, go for a nice long walk and stop into a dessert shop to indulge in a sweet treat symbolizing the sweetness of your marriage.
Love Note – An old-fashioned love note is one of the most touching marriage gifts any person could ever receive. It doesn't have to be too long. It doesn't have to be super creative. What it does need, to be is honest, and heartfelt. Tell your partner why you loved them from the beginning and why you still love them now. Chances are, they'll never let that love note go!
Marriages are beautiful masterpieces that you get to share with your partner day in and day out. Celebrate the love you have for your partner with marriage gifts that can go a long way towards showing how much you still care whether you were married today or twenty-five years ago!