by Lori Torman

March is an advantageous time to share in new beginnings. It marks the season of change from cold and dreary Winter to warm and fresh Spring each year. Nature becomes abundant with the inception of life, encompassing all directions. Embrace these new beginnings by finding yourself and or loved ones of a one-of-a-kind engraved and momentous piece jewelry or other keepsake items from our Spring forward clearance sale. Our sale will place a forty percent price reduction on all of our already clearance items found on our deal pages for both Thoughtful Impressions and our medical alert jewelry sister site Sticky Jewelry for the entire second week of March this year. The discount will be provided by way of coupon code. This is an amazing sale because we've included items from a variety of shopping categories and as a helpful tool for all of you amazing readers, I've kindly put together a list for you of some of my favorite items from my direct experience with them which you should definitely check out first!
Paracord Bracelets with black plated stainless steel – The bracelets are amazing! They always engrave with a strong contrast showing up as a beautiful silverish color and there's plenty of space on the plaque to engrave a custom inspirational message and include a graphic piece or artistry too.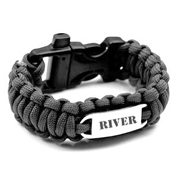 2. Lockets – Lockets are a trend that never goes out of style and we've got an impressive collection of many different styles varying from precious silvers and golds to more durable stainless steel.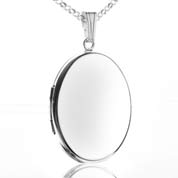 3. Charm bracelets – Be sure to look through our large stock of charm bracelets which can be fun and beautiful gifts for teenagers, women, and children. We have varying material bands with a large selection of styles such as hearts, ovals, and circles.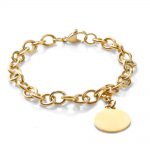 4. Birthstone pendants – Be sure to view our collection of birthstone pendants on our clearance page as well. While supplies last, birthstones for each month are available. Birthstone jewelry is a unique way to personalize a meaningful piece of jewelry for the important people in your life with a gorgeous stone.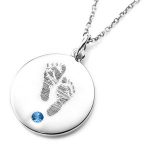 5. Pet Id tags – Find your beloved pooch an amazing and inexpensive new pet tag to keep them safe or to simply say something fabulous about them to show your love. We've got a variety of styles in stainless steel with polished or brushed finish included, plus the tags can be engraved both front and back with either our laser or traditional needle etch method.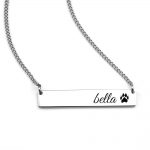 Pet Memorial Engraved Necklace
6. Rings – Last but most certainly not least, please don't forget to check our incredible amount of rings we've got available in this sale. There's a style for just about any occasion available. Many of these rings already come pre-engraved with lovely sayings such as – with this ring, I thee wed. Seasonably speaking, with St. Patty's Day right around the corner, make sure you purchase one of our many St. Patty's Day rings for you and your friends to add to enhance a playful night out on the town!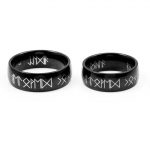 Rune Font Engraved Promise Rings
Whether you need a piece of jewelry for a specific event, are just looking to spruce up your outfit, or still need to find the perfect gift for a loved one, be sure to shop our amazing March clearance sale today!