by Barry Torman
Here we are. Exactly 5 days from Christmas and there are still a few people who have evaded your carefully planned gift list. You may not be seeing them Christmas day, but you need to show your loved one they're on your mind this holiday season. Don't stress!
You can find exactly what you need from Thoughtful Impressions without paying an arm and a leg! Best of all, we offer these beautiful gift boxes so you can ship the gift directly to your last minute dearest.
Here are the Top 10 Last Minute Gifts and they're all under $50!
Polished Sterling Silver Oval Locket 1 x 3/4 Inch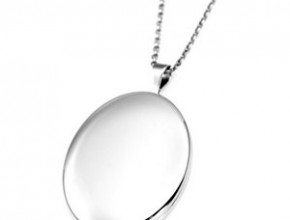 A breathtaking sterling silver locket makes an elegant gift for an aunt or grandparent. Engrave their monogram to add the perfect amount of sentiment. At only $34.99, this is an incredible deal to steal their heart.
Yang Gray Stainless Black Silicone Bracelet by Roberto Arichi
Masculine and modest, this bracelet will still make a statement for the new college student or young adult in your life. Engrave a name or even coordinates to remind him of home. For $39.99, this is a win and a save!
Split Heart Silver Personalized Keychain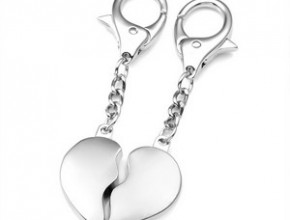 Two gifts in one, only $19.99! These split heart key chains are perfect for sisters, best friends, or the perfect mother-daughter team. Get creative by engraving a split message or the classic monogram. Don't waste anymore time splitting hairs over what to get that special pair.
Heartbeats on Gold Plated Round Pendant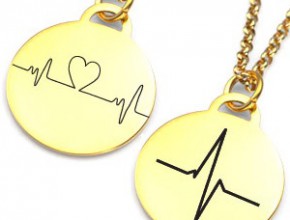 Does your heart still beat for a friend far away? Remind them they're still in your thoughts this holiday season with a modern twist! The front of this gold plated pendant style engraved necklace is pre-engraved with your choice of a simple heartbeat (heart's echo) or the "heart" beat (my heart beats for you). If you'd like, add a message on the back to make this necklace an instant favorite. Only $24.99!
Sterling Silver Heart Necklace & 16 – 18 Inch Chain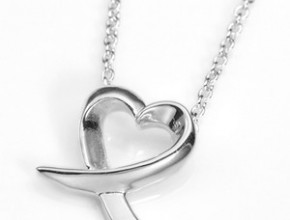 This Tiffany style heart pendant is now only $17.49! Bring a smile and classy sophistication to a new high school student or the young girl who is starting her jewelry collection.
Wherever You May Wander Black Stainless Large Dog Tag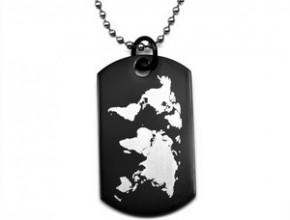 Looking for a young man who loves to travel or who are serving our country? Look no further; we've got the perfect engraved dog tags to show them distance can't stop your love! Engraving reveals a sharp white to contrast the black stainless steel. For only $24.99, you have a unique gift that will bring make far away not seem so far.
Family Personalized Locket with Additional Birthstones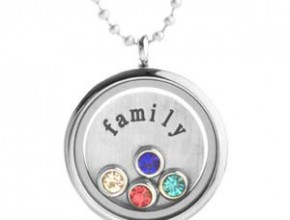 Stun the supermom in your life with our personalized birthstone pendant. Birthstone crystals will brighten any outfit with the sweetest sentiment. Starting at $19.99, this last minute gift will bring joy to last a lifetime.
Round Engraved Cuff Links Stainless Steel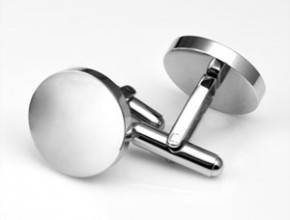 Help your boss or nephew with the big new job step up their suit game with a classic pair of cufflinks. Engrave a monogram on the pair to personalize perfectly. Get this last minute duo for only $24.99.
Loveknots Sterling Silver & Cubic Zirconia Heart Earrings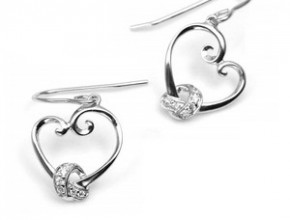 Earrings make the perfect gift for a new friend or coworker. Get to know each other better with an elegant gift like this for only $29.99. These simple hearts will sparkle brilliantly with her next holiday outfit!
Love Forever Gold Tone Bangle Bracelet & Pink Quartz Charm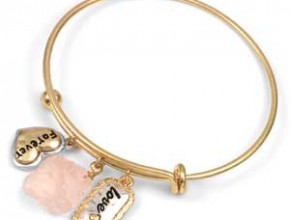 Delicately charming, this pink quartz charm bangle is sure to match almost any outfit adding the perfect finishing touch. For only $19.99 your niece, cousin, or goddaughter will think you're simply the best!
From our family to yours, Happy Holidays!