by Lori Torman
custom engraved bracelets for him

Bracelets are popular accessory choices for men these days. Typically, most men don't wear a lot of jewelry, which means that whatever jewelry they do choose to wear is genuinely jewelry they take pride in. Because of this, a personalized bracelet for a guy is a great gift choice.
Bracelets can be an easy way for men to say hey, I care about my appearance and how I dress plays an important role in that. Stacked leather and gemstone beaded men's bracelets are popular choices. Many of the men I have as friends like to wear gemstone bracelets, because the stones play an important role in their spiritual and physical wellness, plus they look really nice and are quite comfortable. I've also taken note on several occasions that many men seem to be very fond of leather bracelets and it's common for them to stack different styles and colors together. Most times just focusing on one wrist, but sometimes I'll see them adorning both wrists.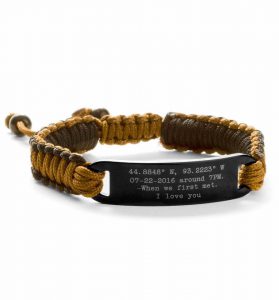 At Thoughtful Impressions, we engrave bracelets for him daily. Most of our orders come from women who want to order their guy something special. As my experience has taught me, men aren't always the best shoppers, but they certainly do love being on the receiving end of gifts. We offer a great variety of choices for men's engraved bracelets. Choose from durable titanium and stainless steel to rugged leather or natural wood and gemstones. Sterling silver and gold are also excellent options for classic looks and as heirloom bracelets to commemorate special events such as anniversaries or weddings.
Personalization of bracelets with us is very simple. We offer various engraving options with laser or traditional etching and most bracelets can be engraved with multiple characters with a myriad of font choices. Visit our site and find the perfect engravable bracelet for him today.