by Lori Torman

If you're new to Thoughtful Impressions or just simply aren't all too familiar with our personalized engraved jewelry and gifts site just yet, I'd to take some time to share with you a bit about our new Heritage Wood Collection.
We've invested a great deal of time and effort to create some unique and memorable engravings for you and your loved ones. Many of the awesome items in this collection are versatile in that they can be engraved with varying templates for unique personalization. Wood engravings are excellent gift choices for weddings. For example, what a nice way to show your appreciation to groomsmen, best man, father of the bride or even as gifts for the special women in the wedding party as well? When my youngest brother was recently married, I custom engraved some wood handle pocket knives with each of his groomsmen's initials and wow, they were such a huge hit! All of the groomsmen absolutely loved the knives and were so thankful to have been thought of while being part of his special day.
Who doesn't love wood? It's durable, it's easy to work with, it can help produce warmth when you're cold and has been used for hundreds of years in structures of all shapes and sizes. What we love about wood is how easy it is to personalize and create amazing one-of-a-kind keepsake gifts with. Some of the items we offer in our Heritage Wood Collection are:
1. Pocket Knives – Add a custom quote or simple monogram to make it a lasting gift.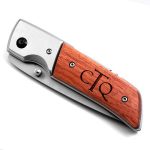 2. Picture Frames – Many of our frames come with cute customizable templates which provide you with samples of inspirational and lasting memory engravings.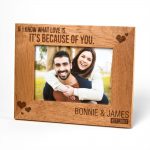 3. Cutting Boards – Customize a cutting board by sending us your handwritten recipe which we can have our graphics department specially develop a unique engraving file for so that grandma's favorite pies can be saved and made for generations to come!
4. Bottle Openers – Bottle openers are a great way to add some fun humor to your gifts. Some of the engravings I've seen which have made me chuckle a time or two are: Conserve Water, Drink Beer, Good People Drink Good Beer, and The Best Beer is an Open Beer!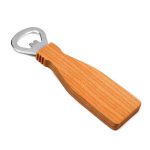 Please be sure to check out this amazing new collection by visiting our website and feel free to like us on our Facebook page to keep up with our new social media updates!