by Lori Torman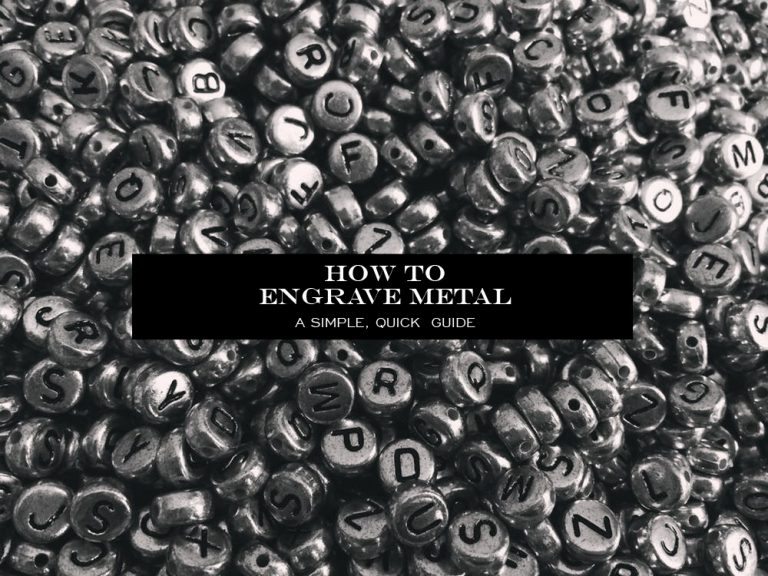 Jewelry has been crafted and customized for thousands of years with a variety of materials and metals harvested from the earth. Initially, the majority of jewelry making was done by hand. Jewelry styles vary depending upon the location and culture shared within. Nowadays with the assistance of technology, metal can be engraved in a great many ways to create looks and styles that appease shoppers of all ages and backgrounds. Provided below is a how to engrave metal for jewelry making and more quick guide.
The first thing to factor when engraving metal is the type of metal being employed in your engraving. Engraving is typically accomplished via some method of cutting; which means you'll want to make sure you're engraving method is strong enough to cut into your metal. Soft, malleable metals are those of the precious arena including sterling silver and gold. Both gold and silver can be engraved easily with most needles, drills, and lasers by way of cutting directly into it, then cleaning up the excess. The softness of these metals makes it easy to make a deep etching to provide a lovely aesthetic and lasting engraving.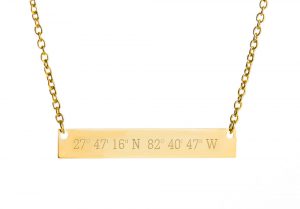 Personalized Gold Bar Coordinates Necklace
Harder metals such as titanium which is known for its strength and adversity to corrosion require a great more deal of pressure, plus a very sharp drill bit or engraving needle if you're going to make any sort of dent into it. Adding an enormous amount of pressure with a hand-stamp machine may also be a plausible avenue to take while etching into titanium. The trick is to hit the metal hard enough and in close range to provide any impact what so ever. All this being said, titanium can provide a challenge if you do not have the proper engraving tools available to you. For this reason and additionally a great deal more, we suggest opting for laser engraving hard metals.
Laser engraving does not work the same at etching because it's actually relying on heat to accomplish the engraving. Laser engraving machines cause the metal to heat up to such a high temperature in an incredibly short amount of time, that it actually vaporizes the metal it comes into contact with. This laser engraving method is known as material removal and the excess which remains will be seen and felt as the engraving. Laser engraving machines have been used for more than ten years for engraving metals and the results are efficient, lasting and they look beautiful. One of the many bonuses of laser engraving is that you can engrave with super fine precision to add a lot of legible engraving to a tiny amount of space.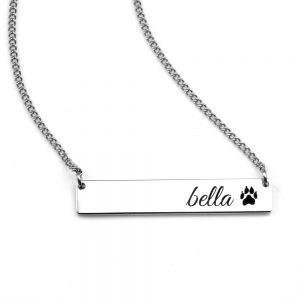 Pet Memorial Engraved Necklace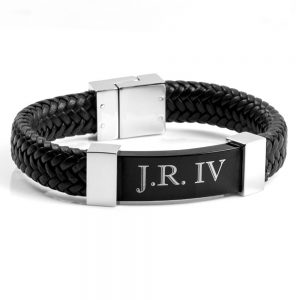 Roman Numeral Engraved Bracelet
Here at Thoughtful Impressions, we employ all of the metal engraving techniques discussed above. Stop by our site and view our collection of metals which include rose gold, yellow gold, sterling silver, stainless steel, titanium and more to create a beautiful, one-of-a-kind personalized jewelry piece or a custom engraved item for the home or office.