by
Barry Torman
We are just CRAZY about Jen and our Nautical Fashion Necklace
I may have been a little biased for my get the look pick. I love Jennifer Aniston. She is an independent strong female with a great acting career behind and ahead of her. She also has a style that's achievable and down to earth.
Whether you're running errands, visiting the morning market, or even a lunch date with the girls; this look combines the summertime relaxed "put togetherness" that we all try to get, right?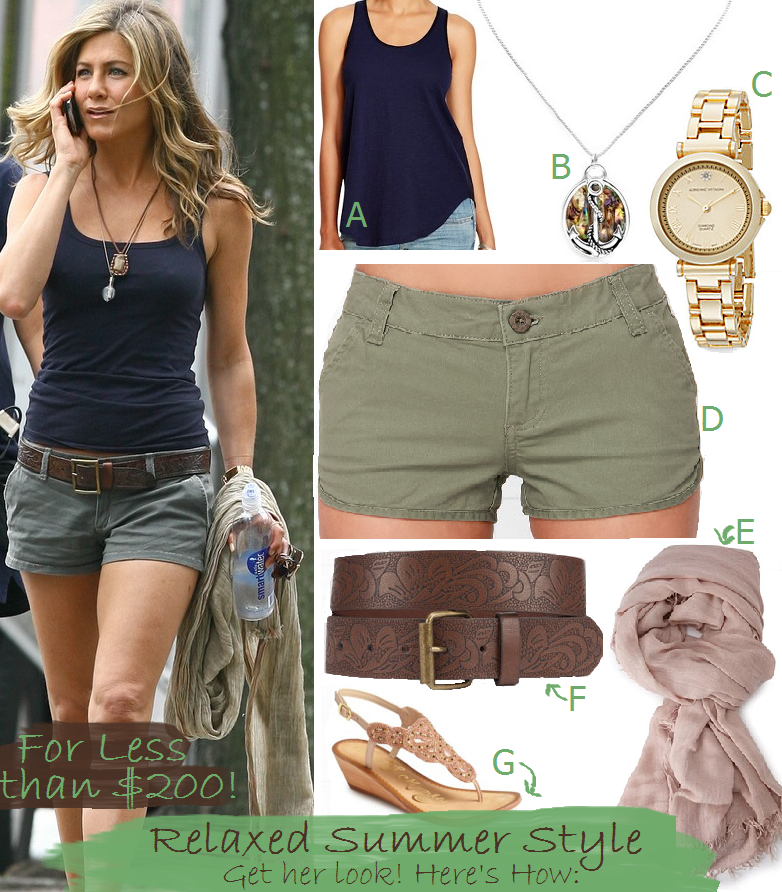 For this outfit, simple is key. Just a few statement pieces.
A. Basic Blue Tank Top
Everyone has a plain (or relatively plain) navy colored tank top! Navy is one of my favorite colors because it makes everyone look great. Plus, I have a pretty boring colored wardrobe, so it's a "pop" of color in my book… Anyways, We have two options: loose or fitted. Whichever is more your style (or if you had an ice cream binge last night) go for it! I chose a slightly looser tank since "flowy" tops are definitely in right now. This pick also has a cute woven textured back to give it just a little something extra.
You can pick up my Women's Woven-Back Flowy Tank from Target for only $17.99!
B. Anchor Fashion Necklace
Coming from Florida, I could not be happier that the nautical theme has picked up so much in fashion right now! That's why I picked this necklace over Jen's layers. As soon as I saw this outfit I knew I'd much rather be wearing the single chain with a necklace that will blow your mind!
I love the intricate detail and the mother of pearl type coloring in the background! It has so many hues that this necklace can match practically any outfit. The Lobster Clasp adjusts to fit 18″ – 21″, so you get that perfect mid-line length every time.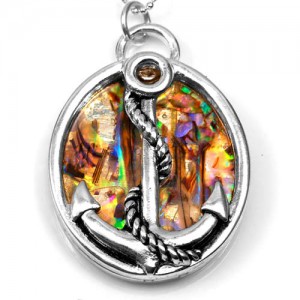 Our "As Deep As The Ocean Floor" Anchor Necklace is yours for only $11.95!
C. Gold-tone Watch with Diamonds
Originally I was going to leave out the watch because I thought, there's no way people can find one for a reasonable price. Plus, you want it to look really nice since it's the only piece on your wrist. Aka you can't easily get away with a cheap placeholder. Then I found this AWESOME deal from SAX OFF 5th (Sax discount website) that has a beautiful gold tone alloy watch, quartz movement, water resistant, with a diamond at the 12'o'clock for 47% off!
This Adrienne Vittadini Diamond Watch can be yours for only $49.99!
D. 'Olive' Some Green Shorts
When it comes to shorts I can be very picky. Those darn kids nowadays wear them ridiculously short! Which makes buying shorts over the web a little daunting. But the review on the site reassured me – gotta love some real person proof! This pair has a fitted waist but slightly stretchy fabric around the hips. Which is always nice to have.
Kristie H. reviewed the shorts saying: 'These fit so cute! The curved hem is very flattering and I have shorter thicker legs so it's hard for me to find shorts that look good.'
When I find a pair of shorts that I like and that work for me, I'm happy to spend a little more. These Downtowner Olive Green Shorts from Lulu's are the most pricey part of the whole outfit at $50.00, which still isn't that bad.
If you aren't in the mood to add shorts to the tab, substituting a khaki or dark brown pair of shorts would work for this outfit as well.
E. Classic Frayed Scarf
Scarfs in the summer? Sure, why not. You see it on the street a lot now and I figure, in case you're going somewhere chilly it's always nice to have an extra layer. Carrying around a scarf looks much classier than a jacket too. This perfect lightweight summer scarf combines the soft silky texture with the chic unfinished/frayed looking ends! Just be ready to hand wash.
I found a rosey-cream colored Frayed Scarf at Forever 21 for only $6.99!
F. Bold Embossed Belt
I absolutely love the texture of this belt! It serves a functional purpose, but with such a simple outfit it makes a statement too. The mix of delicate floral patterned embossing on the bolder faux leather belt is very trendy. What makes this belt even better? It's not just any floral pattern, it's a lotus flower which is the perfect adult floral. Not 5 yr old daisy's, but not grandma's petunias.
This Lotus Embossed Belt is yours for only $9.99.
G. Detailed Sandals to Finish Off
With a no-frills outfit like this, every part counts. So don't leave those toes out! Stay with a neutral color to keep the earth tones going, but have fun with some detailing. You can go straight flat sandal or pick a slight wedge for a little height and it makes your calves look fantastic!
This detailed pair were loved so much, a reviewer used them as her wedding shoes!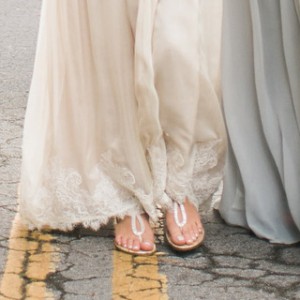 Get the Sparkle of Genius Sandal in Rosewater from ModCloth for only $30.99.
That's an entire outfit with pieces you can mix and match all summer for less than $200!
So whether you put this outfit together from your own wardrobe or pick up some new pieces, it's nice to have a little effortless outfit inspiration. My goal was to find something to stay cool in the summer, while still looking "put together" enough to stop for lunch with a friend.
By adding the Deep As the Ocean Anchor necklace to your collection, you can't go wrong! Dress it up or down, it's sure to keep any outfit anchored in style.