by Barry Torman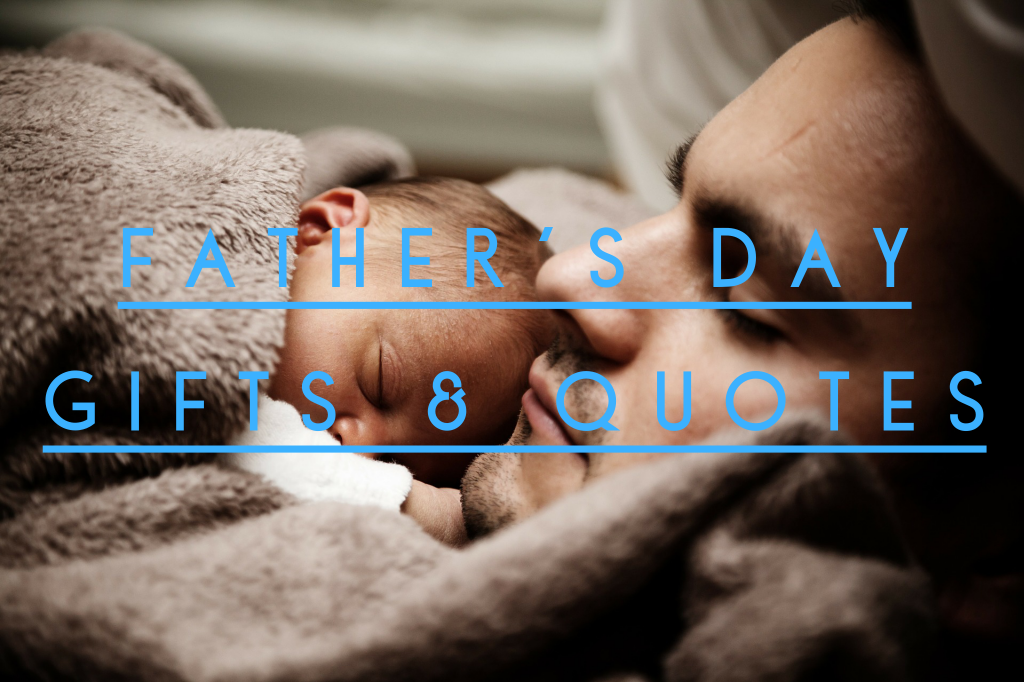 Is the Dad in your life so amazing you're lost for words?
If you're figuring out what to write in a father's day card or just engraving a father's day quote on a personalized engraved gift for Dad, we're here to help you out! Here are some of our favorite quotes we've seen over the years; I know you'll find the perfect one for you and your dad.
"He didn't tell me how to live, he lived and let me watch him do it"
"I may be taller than you now, but I'll always look up to you"
"Thank you for acting like a kid when I was a kid, acting like a friend when I needed a friend, and acting like a responsible parent when I needed one. You have played many important roles for me, and I am so grateful. Happy Fathers Day."
"Any man can be a father, but it takes someone amazing to be a dad"
"Some people don't believe in superheroes — because they haven't met my dad"
"I'm so glad when daddy comes home, glad as I can be — I clap my hands and shout for joy, then climb upon his knee"
"A grandfather is someone with silver in his hair and gold in his heart"
"I love how we don't have to say out loud that I'm your favorite child. Happy Father's Day"
"It's because of you that I am awesome"
"The only thing better than having you as my dad, is my children having you as their grandpa"
"Dads are most ordinary men, turned by love into heroes, adventurers, story tellers and singers of songs"
"The greatest gift I ever had comes from God – I call him 'dad'"
"Dad- I know you've loved me as long as I've lived, but I've loved you for my entire life"
"A dad is someone that holds you when you cry, scolds you when you break the rules, shines with pride when you succeed and has faith in you – even when you fail"
"A father is neither an anchor to hold us back, or a sail to take us there…but a guiding light whose love shows us the way"
"A man never stands as tall as when he kneels to help a child"
"The best thing a dad can do for his children is love their mother"
"Dad- a son's first hero"
"Dad- a daughter's first love"
"Only the best dads get promoted to 'Grandpa'"
"A truly rich man is one whose children run into his empty arms"
"A dad is someone you'll still look up to no matter how tall you grow"
"A good father is one of the most unsung, un-praised, unnoticed and yet one of the most valuable assets in our society" -Billy Graham
"It is a wise father that knows his child" – William Shakespeare
"To become a father is not difficult, but to be a father is. Thank you for everything you've done for your family"
"Blessed indeed is the man who hears many gentle voices call him 'father'"
"A daughter can outgrow your lap, but she will never out grow your heart"
"I cannot think of any need in childhood as strong as the need for a father's protection" – Sigmund Freud
"My father gave me the greatest gift anyone could ever give – he believed in me"
"A father carries pictures where his money used to be" <–one of our favorites
"The older I get, the smarter my father seems to get"
"The view from atop your shoulders was the best I've ever had — I see more, know more and can do more because you are my dad. Happy father's day!"
"My dad is my best buddy"
"If I had the chance to choose who my dad would be, you would still be my first choice"
"The one who raises a child is a true father, not necessarily the one that helped make it"
"Best. Dad. Ever."
"My fingers may be small, but I've got daddy wrapped around them"
"Who needs superman when you have your father?"
Please tell us if there are any we should add! Happy Father's Day to all the dads and grandpas out there!
With many expedited shipping options to choose from, you can still get a personalized gift for dad in time!