by Lori Torman

Fall is a gorgeous time of the year when the leaves begin to change colors and drop to our feet in beautiful piles of red, orange and yellow hues. The air shifts to a cooler, drier temperature and brings with it a new feeling and wardrobe for all of our days. And…what's a Fall wardrobe without new Fall accessories?! At Thoughtful Impressions, we've got you covered with our collections of engraved necklaces to fit every style for men, women, and kids!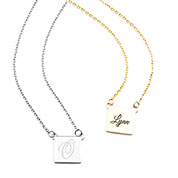 We suggest pairing new v-neck sweaters on guys and gals alike with minimal style personalized necklaces for the girls and custom dog tags for the men. And, don't forget to accessorize your exposed wrists with engraved bracelets.
Our minimal necklaces for women include gold and silver bar necklaces. Plus varying geometrically shaped necklaces which include triangles, circles, and squares. All of which can be engraved on the front and back with text in the font of your choosing or custom graphics that you've created. A popular choice amongst our customers is our handwriting signature necklaces. These uniquely styled necklaces come in gold, rose gold, sterling silver, and stainless to always compliment every Fall outfit.
Customize your personalized necklaces by adding meaningful symbols such as Chinese characters which symbolize love, courage, and peace. Or, for all of the lovers out there, we've got an entire category of love symbols to choose from. Our engravers put together a list of their favorites which include the infinity love, infinity forever, Celtic heart and anchor symbols. A nice way to create a unique style of personalized necklace is to marry your specialized symbols with a meaningful phrase or latitude and longitude coordinates which symbolize a location which holds special meaning in your heart.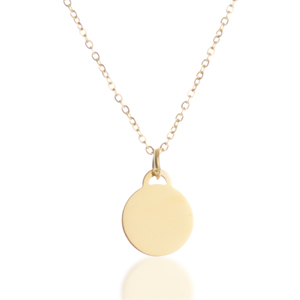 Our coordinates necklaces are a beautiful way to commemorate the love you share of a once in a life time place you've traveled to and had the treat of exploring.
We hope you enjoy the change of seasons as much as we here at Thoughtful Impressions. Shop with us today to find a beautiful personalized necklace that you can love for years to come.