by Lori Torman

Near, Far, wherever you are! One of my favorite customization's we offer here at Thoughtful Impressions is our coordinate engraving collection.
Forever keep with you, your special places on our beloved earth. We can create the coordinates with degrees of variation where we engrave them GPS style or standard plain latitude longitude style. Just place a note on your order to let us know if you have a preference. Typically our artisan engravers will choose the style which will be most aesthetically pleasing to the jewelry and will inscribe it delicately for you to have a quality and lasting wear. All of the products in our beautiful coordinates collection are custom engraved on location in sunny St.Petersburg, Florida.
The way it works is really quite seamlessly beautiful. Simply select the jewelry or gift item you wish to have personalized, then type in the address for the coordinates you wish to have engraved. We will be sure to convert the address you have provided to us as coordinates and will then inscribe them with whichever unique engraving method you have selected – either classic colorless traditional needle etching or our black laser engraving option. We have provided you with several font selections from feminine and pretty fancy script to a more modern masculine stencil type. Below are a few pictures I've selected which brilliantly showcase some of our gorgeous personalized coordinate products.
For my younger brother's wedding just a few months ago, he was so thankful to be able to purchase gifts for his bride, groomsmen and even himself to wear on his special day. He carefully went through our entire collection and ended up purchasing some classic cufflinks, and necklace pendants all engraved with the varying locations which have significance to him and his beautiful bride. He elected to have the location where he proposed, where they were then to be married and then finally the location of their honeymoon onto the individual items.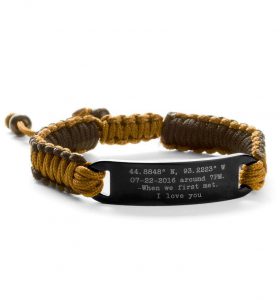 Coordinate inscriptions are unique in that they always tell a story. Whether it be from your initial inception on this earth to the place where your spouse first told you those three magic words, to a dear one's final resting place, a coordinate engraving is a one-of-a-kind gift to spread love and happiness for years to come.
Have your custom coordinates jewelry inscribed today, shop our beautiful collection here.