by Lori Torman
Recently we had the unique and fortunate opportunity to play a very special role in an exciting art meets science project for the local Seminole, Florida St. Petersburg College campus. The project's leader, SPC Communications Instructor Kyle Pierson contacted us for a very specific engraving which involved engraving customized QR codes onto metal sheets which were to be posted along the Natural Habitat Trail. Each customized QR code links to a nature poem written by a Florida poet. We used our laser engraving method to create these specialized extra large QR codes and text necessary to outfit her metal signs. Below is a brief summary which Kyle Pierson was so kind to write for us describing her project in further detail.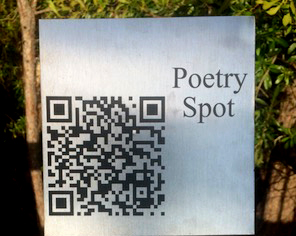 QR Code with Nature Poetry Links
Poetry Spots
The Natural Habitat Trail on the SPC Seminole Campus invites students and community members to stroll through a 200-yard tract of undeveloped land. The land is a slice of native Florida connecting a series of ponds across campus. Visitors can identify trees, plants, and animals they may encounter using QR codes posted along the trail. Knowing that Florida's mysterious landscape has inspired many fine poets, SPC Communications Instructor Kyle Pierson asked why not also create a poetry website that could be accessed via QR codes too? She holds a master's degree in Florida Studies and saw this as a way to highlight how the arts and sciences mutually enrich each other. What better voices to tell that story than Florida poets? She included poetry celebrating the often-overlooked beauty of swampy Florida. In a two-step process, she first built the website and then had the codes made. She tracked down the fabricators of the existing botanical signs to StickyJ Medical ID and Thoughtful Impressions. The company happily agreed to make a set of poetry spot codes. Soon visitors can scan their smart phones over the code and a poem, a short legend, or plant identification will pop up on their smart phone depending on which code they use. They don't even have to type in a web address. It's a happy blend of the arts and sciences.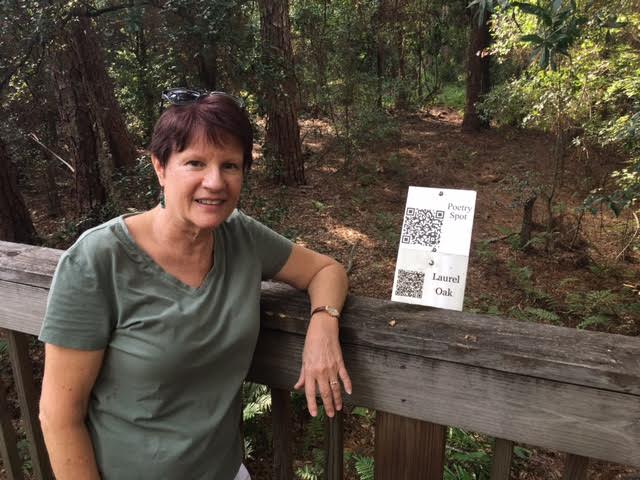 Nature Poetry QR Code on SPC Campus
At Thoughtful Impressions, the large majority of our orders are for engraved jewelry and customized gifts, but it's always a welcomed treat for us to be granted the special opportunity to be part of projects which are educational and make a positive impact in the community and the lives of many.