by Lori Torman

At Thoughtful Impressions, we pride ourselves on quality, affordability, great service and keeping up with the latest trends.
We provide a beautiful variety of engraved jewelry and gifts including, but not limited to our stunning polished bar necklaces.
Engraved bar necklaces are a lovely accessory choice because they're minimal while still expressing style. They can be custom engraved both on the front and back sides and they've got enough space to engrave a meaningful message or to just keep it short and sweet and engrave a name or a meaningful symbol. They're great statement pieces to be worn with a variety of fashion choices. Wear them for a night out with the girls, date night with your sweetie or even if you're keeping it casual they add spice to just about any style.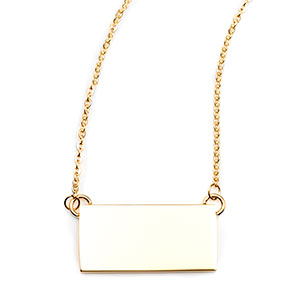 We offer bar necklaces in a few different shapes, sizes, and styles. Included metals are 18k gold, sterling silver, and steel. Our gold personalized bar necklaces come at a specific length ranging from 18-20 inches so that they typically rest in the clavicle or just below it in order to give a classy aesthetic and to be easily seen with most blouses, dresses, and tees.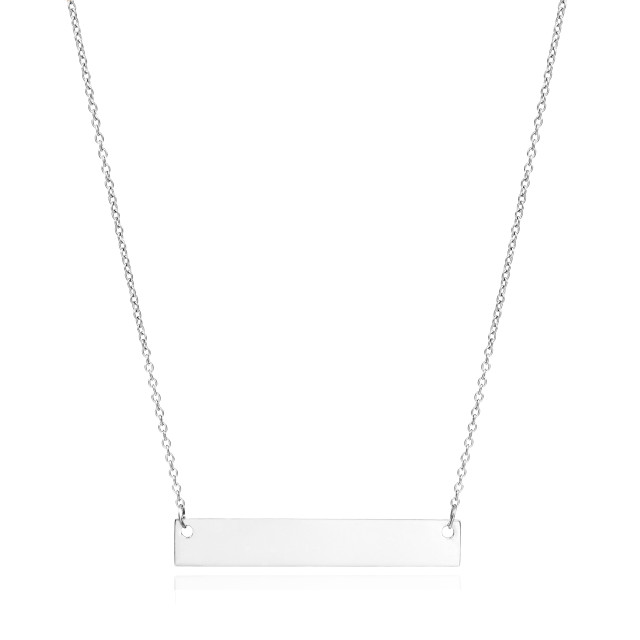 Custom engraving for these style necklaces will be performed with our black laser or traditional needle etching methods. We can engrave your bar necklace with any of the symbols we show on our site. If you have a custom graphic of your very own you wish to have specially engraved, we've made it easy for you to email your art file to the graphic department at logo@thoughtfulimpressions.com. Our team will then review your file and respond to you promptly with your unique personalization options. Often times we can engrave custom graphics with a few minor tweakings and there is a small additional charge associated with this specialized kind of work as it will take our artisans a bit more time to produce.
Shop our engraved bar necklaces today to find a personalized necklace you'll love for years to come.