by Lori Torman

Custom dog tags are one of the several classic gifts for men which continue to please time and time again. The awesome thing about dog tags is that they're large enough to allow for a decent amount of text or for a thumbnail sized graphic to be engraved onto the tag– often times on both the front and back sides. Here, at Thoughtful Impressions, we carry a wide variety of dog tags for men which allow for personalized engraving.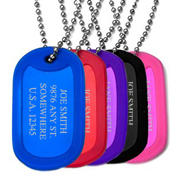 Included in this variety are aluminum tags which come in an assortment of colors and provide durability along with a beautiful engraving aesthetic. If you're looking for a classic double dog tag ensemble, we've got you covered in that category too. Accompanied by a colorful array of interchangeable and stylish rubber silencers so that as the dog tags rest upon each other, they will not scratch up the metal and provide stealth like mobility by doing what their name states–silencing. Dog tags for men are an especially sentimental gift choice too as they were originally worn by soldiers to identify their bodies upon cessation plus to provide important medical information such as their blood types– and continue to be issued by the military for all soldiers today as double dog tags. Custom dog tags have now become a popular choice of fashion for men as a piece of trendy and or meaningful jewelry.
Be sure to browse through our entire stock of dog tags for men as we've also included dog tags which are fun and functional such as our custom bottle opener dog tag so no beer will ever be left behind! Personalize this unique dog tag with a funny or endearing message or a custom graphic.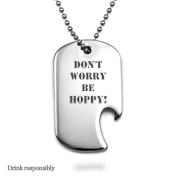 Additionally, a personal favorite design of mine when it comes to the men's dog tags we offer is our USB double dog tag. This wearable dog tag brings together style and function to assist every man with their organization and the safety of their digital files not limited to digital passwords, sentimental photographs, music and more!