by Barry Torman
Early 90's brought about the break apart charm necklace trend.
You remember those "BFF" necklaces, right? Each person wore a side that was either the "be fri" or the "st end" in the best friends partnership.
Thoughtful Impressions can give you the grown-up version with custom dog tags.
Custom dog tags engraved with a special message, anniversary date, and their names are the latest in couple's jewelry. This is also suitable for best friends. These dog tags are worn by each person and should never be removed. It is essentially telling the world that they belong to each other as a couple, or are dedicated and loyal to one another as best friends. Dog tags have long been a symbol of dedication worn by soldiers for identification purposes. The move to mainstream jewelry has been received well. Men and women wear them engraved with their name, with a personal motto or quote, and even with song lyrics. But really meaningful custom dog tags for couples have become very popular.
Military couples, teenage couples and even those who have been married for several years may enjoy wearing matching custom dog tags. They are lightweight, go with nearly any type of clothing, and can easily be tucked inside a shirt if necessary. Due to the long-lasting materials used and the durability of dog tags, you can slip your dog tag necklace over your head and keep the loving declaration close to your heart at all times.
Personalize an engraved dog tag is the perfect gift for a fitness instructor, personal trainer, gym coach or gym lover? Even if it's just to get out of those last few extra push-ups, we have hilarious engraved dog tags for them! Check them out! We won't tell.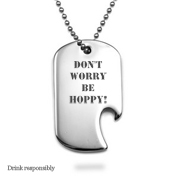 Our engraved dog tags can also be engraved with quotes, images, even a custom logo! Just send us a Pinterest-style quote image that you would love to have engraved on your jewelry! We would be more than happy to let you know whether or not the image you're requesting will work.
Keep in mind that our laser engraved items are "annealed", meaning we are actually altering the color of the metal itself, not adding black color on top of it. No need to worry about your image coming off! Perfect for athletes, those who are rough on their jewelry, and those who don't want to have to think about removing jewelry before bathing with sea urchins.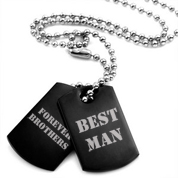 So wheel your virtual shopping cart on over to Thoughtful Impressions and load up on some of our newest, greatest (and sassiest) items for your self and friends! It's way better than loading into your car and driving over to a crowded store with a bunch of people you don't know and finding out they don't have that perfect motivational key chain you were hoping for. Not to mention all the gas you just wasted.