by Lori Torman

At Thoughtful Impressions, we're incredibly pleased to offer amazing service, products, and care to our customers. From the moment a customer visits our site to shop, to the day they finally hold their purchased product in their hands, we do our best to ensure a fantastic experience for everyone. To show off some of our amazing work, I've put together a recent genuine list of great five-star reviews we've received on some of our personalized jewelry and gift products to share with you all.
Our first five-star review we'd like to talk about is for our adjustable black leather ID bracelet from Naisha K. published on December 27, 2016. Naisha wrote: "Amazing –The fact is they tried to send this gift through Canada, and Canada was trying to charge the person on the receiving end. Your company was kind enough to resend the item directly to me and kept contact the whole time. That and the item was beautifully done, for little cost. It touched my friends and I think you for that."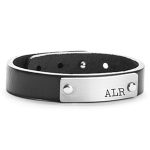 2.Our second five-star review on our list comes to us from Tina A. who purchased our sterling silver engraved bangle bracelet.
Tina A. wrote: "LOVE!
I've been trying to find stainless steel bracelets in most any store I go into. Fortunately I came upon Thoughtful Impressions! The bracelets I bought were exactly what I was looking for.
I do want to mention that measuring your wrist for a bracelet is a little more tricky than you think. I ordered the smallest bracelet according to the directions but it was not large enough for my right hand. Luckily it did fit my left hand. I then ordered the largest bracelet according to other directions on the internet. This bracelet was too big and falls off of my hand. I decided to wear both the small and large bracelets together on my right hand and it seems to works well.
I might ask my husband to take a look at Thoughtful Impressions to help him decide what he should get me for Christmas!"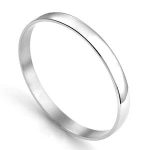 3. The third five-star review we're delighted to share comes from Laila S. who purchased our black stainless personalized cuff bracelet.
Laila S. wrote: "Perfect Bracelet — I customized this bracelet as a memorial for one of my friends who passed away. I plan on ordering more for other friends who want one!"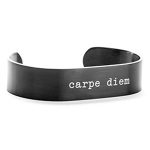 4. The fourth five-star review we have to share comes from Gabby K. who recently purchased our engravable silver 4×6 picture frame.
Personalized Mother's Day Frame
A couple weeks before Mother's Day this year, I purchased a personalized frame for my mother. I had it specially engraved with my grandmother's (my mother's mother) handwriting that said "I love you, Love Mom". It came out perfectly and my mother absolutely loved the frame. My grandmother passed way in January, so needless to say, it brought my mother to tears. The people that work here are very professional and do a wonderful job on personalizing their products. I would absolutely recommend this company to anyone looking to have something personalized"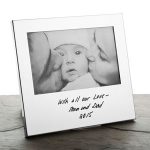 5. Our last but not least five-star review we'd like to share with you all is from Kassi B. who bought our heart keychain and had it personalized with custom engraving.
Kassi B. wrote: "Gift was purchased for my husband for our anniversary. It arrived quickly, and looks exactly as i had hoped and expected. Even better, my husband likes it too! He wears it daily!"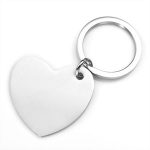 We hope you've enjoyed reading over our list of amazing product reviews as much as we have and that you stop by our online shop today to find a wonderful personalized gift.