by Lori Torman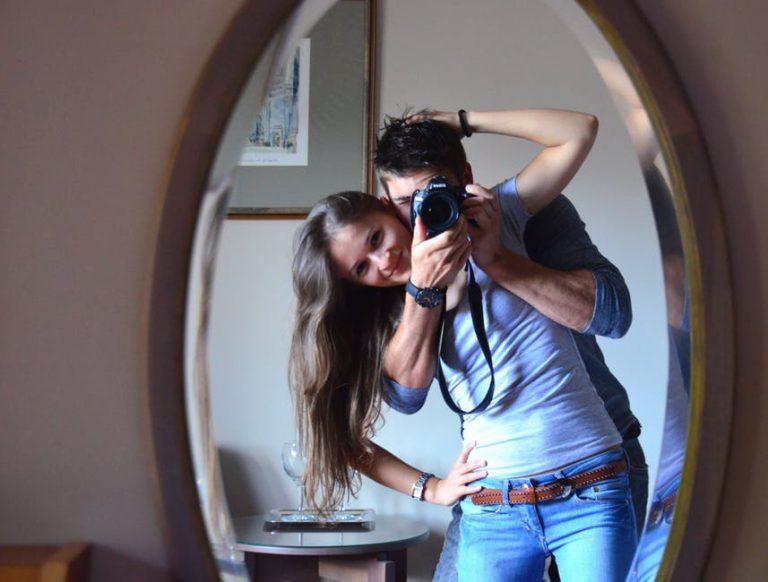 Let's face it, it can be quite the challenge to find a great gift for your boyfriend for his birthday. If you're looking for something that's cute, but that he'll really appreciate and want to keep around, then read on. We at Thoughtful Impressions have come together to make a list of seven cute things to get your boyfriend for his birthday that he'll actually like!
A Personalized Bracelet – The great thing about personalized bracelets is that you can choose what you want them to say. Lots of our customers choose to order engraving that says something sweet and meaningful that only their significant other will understand. An inside joke or even coordinates from a place which holds special meaning to you and him or just him makes for a super cute gift that he'll love.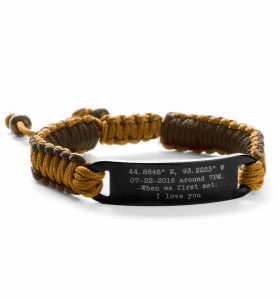 Custom Leather Wallet- Leather wallets on their own make for a really nice gift because most men will keep their wallet for years and years until it finally falls apart. A leather wallet with custom engraving is even better because you can have something caring engraved on it that he'll see every time he uses his wallet to remind him of you. You can order a sweet message or something funny. We also engrave symbols and special logos onto most of our products, so if you have an idea for something out of the ordinary, then please submit it to us for review.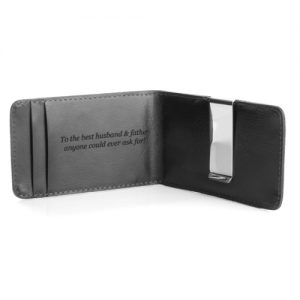 Engraved Signature/Handwriting Jewelry or Keychains- A really cute gift idea for your boyfriend's birthday is to order a product from our handwriting jewelry and gifts collection. The way this works is very simple. First, you'll want to find a handwritten message or hand-drawn image that you know he'll appreciate, then you want to take a digital image of it and email it to us. We then take it from there using our technology to extract the handwriting/hand drawings to create an engravable file. All you'll need to do from there is choose the item you want to be engraved. Many of our customers choose bracelets and keychains for their boyfriends. It might be a nice idea to flip back to older birthday cards or maybe you can find a love note, poem, or cute story you wrote for him in the past and have that engraved onto a piece of jewelry that will last for years.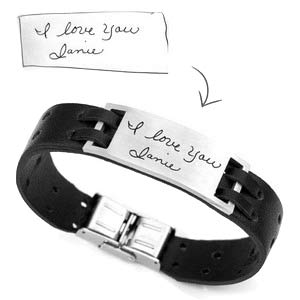 Personalized Pocket Knife – Pocket knives are a gift that just always seems to be popular with guys. Guys like things that are versatile and can help them out if they're in a survival situation or just in day to day operations at school or at home. Pocket knives are handy and guys like having simple tools on hand. Take your pocket knife gift one step further by getting it engraved with his name and the day you two met or had your first kiss! Another idea, if he likes sports, get the name of his fave team or if he's needing some extra inspiration, order his engraving to be an inspirational quote.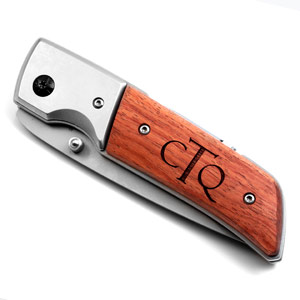 Custom Engraved Picture Frames – Picture frames are a cute gift that your boyfriend will really like because he loves looking at pictures of you and especially pics of you and him together. At Thoughtful Impressions, you can select from wood, sterling silver, and stainless steel frames. We suggest ordering your frame and then selecting one of your most treasured pictures to place inside of it. Then, choose a caption for your picture and order that for your engraving.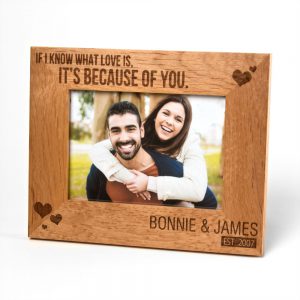 Necklaces – Most guys like to wear necklaces, making a personalized necklace and excellent gift choice. Find a necklace you know he'll want to wear and add a romantic inscription to it.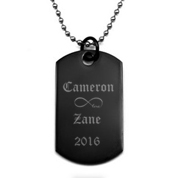 Bottle Openers – Lastly are bottle openers. Bottle openers are a cute gift for your guys birthday because he can use them to open beers, sodas and more. Guys like being at the ready, so this is an awesome gift because he'll feel like he's prepared and he can assist others when they do not have a bottle opener of their own. All you need is a cute engraving idea and you're all set! Humorous sayings and monograms look really great engraved onto our bottle openers.
Make this a birthday your boyfriend will always remember by getting him a gift he'll love — engraved jewelry and customized gifts are a great way to show how much you care!